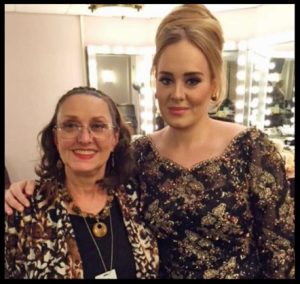 (Photographed Above: Jeanie LoVetri with Adele backstage at Radio City Music Hall, NYC, 2015)
This month many of our Somatic Voicework™ teachers have been performing all over the world, sharing their shining singing in all sorts of venues, including: Suzzanne Douglas, Jamie Leonhart,  Carolyn Leonhart, Theo Bleckmann, and many others.
We look forward to Jeanie's return trip to Brazil in January where she will be teaching Level I and Level II, again at the invitation of Vocal Sao Paulo, a group of SLPs there who have done Jeanie's work. A very large group of people have already registered for this training and Jeanie is excited to be visiting this lovely country again. Along with husband, Jerry Kaplan, Jeanie will be looking forward to spending two weeks in warm, sunny South America in the dead of the chilly NYC winter!
In February, Jeanie will be master clinician for the NATS Kansas Conference. Details will be announced in January's newsletter.
Piotr Zielinski, our webmaster, continues to develop our Somatic Voicework™ website and we really need to hear from you in order to make sure it meets your needs and interests. Be sure to be in touch!
[Read more…] about A Year In Review & An Exciting Year Ahead