Photographed: Jeanie LoVetri with Candice Donehoo Pullom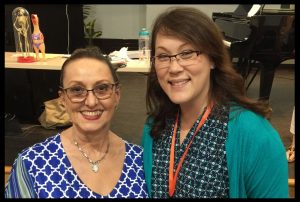 We are excited to be announcing our 2018 LoVetri Institute for Somatic Voicework™ in residence at Baldwin Wallace University in Berea, Ohio, from July 21 through 29. Registration is now live! All three levels will be presented and there will be the first-ever Vocal Health Intensive for graduates of Level III (prior to 2018) presented by a leading voice research scientist and expert, Dr. Claudio Milstein, Director of the Voice Centre at the Head and Neck Clinic in Cleveland, Ohio. This affiliation with one of the great medical centers in the USA is a honor and delight for the LoVetri Institute. Dr. Milstein will be creating an annual program specifically for Somatic Voicework™ teachers to give them a greater awareness to appropriately address vocal health issues. We also have other world-class experts in vocal health and vocal performance.
Photographed Below: Dr. Claudio Milstein with a patient, photo courtesy of Gretchen Cuda for NPR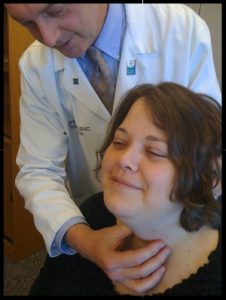 Registration for Dr. Milstein's course will be available in the coming weeks and will be announced in a future newsletter.
The following is our 2018 Guest Faculty. Dr. H. Steven Sims, laryngologist at the University of Illinois Chicago Institute for Voice Care, will be our medical lecturer in Level III. Dr. Sims has treated many professional voice users and is very "singing voice" knowledgeable. His three-hour lecture will give practical information that all teachers of singing and singers need to help stay healthy. He will be joined in Ohio by his colleague at the Voice Care Institute, Jan Potter Reed, a Speech Language Pathologist specializing in voice. She will be lecturing on vocal health in Level I. Also in Level III, we will be joined by Tom Murray , who is returning by popular demand, to do another master class series on Broadway auditions with our participants. Tom is currently Music Director for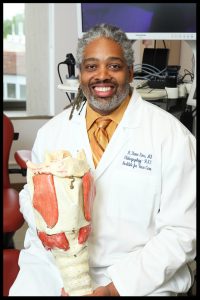 Broadway's Anastasia and brings years of experience about
Broadway singing and performing that he generously shares with our participants. Dr. Trineice Robinson-Martin (http://www.drtrineice.com/index.html) , author, singer and Gospel vocal pedagogy expert, will do a clinic and master class with participants on jazz, blues, and gospel. Our bodywork experts are Suzan Postel (joining us in Level I) and Peter Shor (joining us in Level II). Suzan is a Pilates Instructor, singer, dancer, and broadway veteran. Peter is a massage therapist, artist and musician with years of study in many bodywork disciplines. Both have been associated with Somatic Voicework™ for many years.
Photographed Above: Dr. H. Steven Sims
Photographed Below: Somatic Voicework™ Faculty, Michelle Rosen, Jeff Costello, Besty Fiedler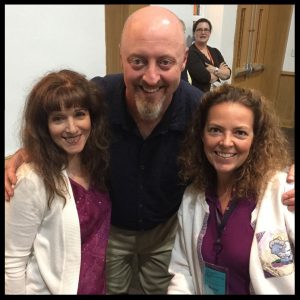 Assisting Jeanie through all three levels is Michelle Rosen, Senior Faculty, who teaches at NYU Tisch, at The Brooklyn Youth Chorus, and privately. She is also former faculty at Rider University in their Music Theater degree program. The Associate Faculty is Betsy Fiedler from Massachusetts, who teaches at college, in local schools, at is an active church musician, soloist and choral conductor. She also has a private practice. Jeff Costello is our Audio Engineer and will presenting as well as be Assistant Faculty. Benjamin Czarnota will again be returning as Faculty Liaison. They will be joined by for breakouts by Assistant Faculty Leischen Moore from Tacoma, Davin Youngs from Chicago, Amanda Chmela from New York, and other Somatic Voicework™ teachers to be announced.
This gathering of experts, who will be teaching people from all over the USA and the world, will be offering a wealth of information that cannot be obtained anywhere else at one time (just 9 days!) and in one place and for this very reasonable fee. Other courses, with fewer experts and less content, are more expensive. Our reasonable fee makes it accessible for the broadest audience to be able to attend. The number of spaces available, however, due to last year's overflow crowd, will be limited and we urge anyone who is planning to come to register well in advance to be sure to hold a place. There will be a waiting list this year. Registration for this summer's LoVetri Institute for Somatic Voicework™ is now live, please click here to register!
[Read more…] about Off to Brazil, U.S. Teaching Weekend Tour & LoVetri Institute Registration is LIVE!