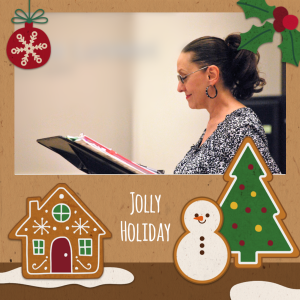 We are delighted to conclude this year with many wonderful memories of great things that have happened, successes of Somatic Voicework™ teachers everywhere, and the expansion of the work in the inter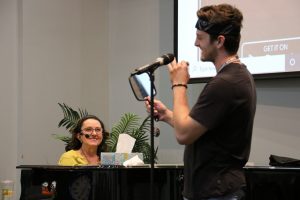 national community. Much of this happens through "word-of-mouth" sharing, as we do very little promotion or advertising. That's such a wonderful thing to know…that people find the work valuable in their own lives and in their teaching, and that they share it for those reasons.
(Photographed Above: Jeanie LoVetri and Michael Belden)
In January we were in Australia for our LoVetri Institute at the University of Southern Queensland. Plans for the next trip t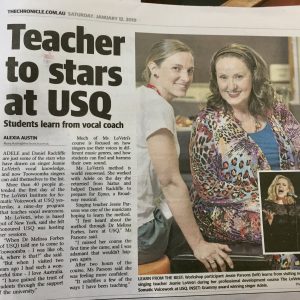 o Australia are not yet settled, but we are working on 2021, so we will keep everyone posted. There were visits to Boston, and then to Philadelphia for our annual visit to the Voice Foundation Symposium and then to Denmark for the PEVOC conference, and to Barcelona, for a workshop (with colleague Mary Saunders-Barton) and a personal trip to Madrid. This was followed by a trip to Las Vegas to the studio of Dr. Michelle Latour, and to Virginia, for a weekend of work with teachers in that area at the home of Bharati Somen. In between lots of great things were happening here in NYC, with students performing at Joe's Pub, on Broadway, at the Jazz Standard, and out on the road both nationally and internationally.
(Photographed Above: Press Clippings from The Australian LoVetri Institute at USQ)