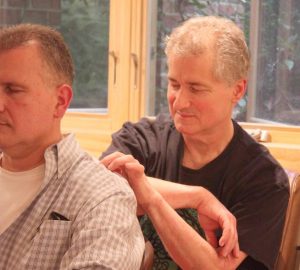 I am a massage therapist. I have created my own approach I call "Advanced Intuitive Massage." I work with people to solve physical problems that stand in the way of their fullest functioning in life. These problems can appear as stress, pain, disease, loss of strength poor posture, and inability to do a desired activity. I listen to their description of the problem, I observe them, and I get some insight into how I will start to work to solve it. Once I start working, the process is like exploration, and I allow creativity to guide me to resolve the condition.
Whatever problem comes to me, I dedicate myself to finding a solution. I believe that solutions are available, no matter what the diagnosis. Progress toward the solution requires a mutual dedication to working together. Sometimes progress is quick; sometimes the progress develops over time. The first obstacle to overcome is the belief that no relief is possible or likely. Usually there is enough progress in our first session together to overcome that obstacle.
The second obstacle to overcome is the belief that the problem cannot get 100% better. My body feels better at age 60 than it did in my 20s! I have overcome a long list of problems with my own body:
• Diabetes
• Peripheral Neuropathy
• Periodontal Disease
• Obesity
• Lyme's Disease
• Carpel Tunnel Syndrome
• Thoracic Outlet Syndrome
• Lower Back Pain
• Neck Pain
• Depression
• Knee Pain
• Poison Ivy Sensitivity
• Hypertension
• Flat Feet
• Vertigo
• Irritable Bowel Syndrome
• Heart Arrhythmia
• Presbyopia
• Thoracic Vertebrae Misalignment
• Snoring/Apnea
All of these problems gave me a feeling of hopelessness, and there was little effective help available to me. Lots of time and money were spent with limited relief from a wide variety of professionals. Usually problems would be treated from one angle. It is rare that I find that a problem can be solved from a single angle. I have had to learn how to solve them myself by applying multiple angles, investigating other possibilities, and that process can be applied to my client's problems. If my client is interested, I can share a wealth of self-help approaches they can do on their own.
The process of working on people's bodies feels very creative to me. I feel like I am sculpting a perfect body into an even greater state of perfection. Myofascial release stretches out the connective tissue that can lock posture in restrictive ways. It restores elasticity and hydration in ways that appear to reverse aging! Most of what I perceive as aging is dehydration. As I release the connective tissue, fluids are restored at the cellular level, elasticity is restored, and the tissue appears unaged. After working on a 90-year old back, it appears to me no different than a teenager's back. Sometimes I can make progress more quickly with a geriatric client than a child with the same problem. Healing potential is individual and not subject to age.
When joints are mobilized, synovial fluid and bursa function better. The bodywork meme is "motion is lotion." Restoring mobility to elderly people helps them tolerate aging and reduce deterioration from inactivity.
I was working with a woman who told me her doctor said her pain was due to aging, and that she will just need to learn to live with it. I was astonished as she did not appear to me to be "old," so I asked her how old she was. She replied "50." I told this to a couple in their 90s that I was working with and they had a good laugh!
In one family I have worked on people from 4 generations. It is amazing to experience the commonalities of bodies with shared DNA. It is a real privilege to help people!
Bodies need maintenance but people are not given a maintenance manual. It is not well taught in physical education. I have learned so much about maintenance by taking care of my own body. We need to take care of our bodies like we take care of our pets. We need to feed our bodies the appropriate food, exercise them, stretch them, and keep them healthy and free of pain. We can best do this out of love for our bodies. Gratitude that our bodies are our interfaces with the world can help us increase our love for them.
One of my teenage clients noticed "it is interesting that dogs are enthused about exercise, and really want to be taken for walks; why is it so hard for us?" I have found that the effort to get past my inertia to exercise my body is greatly eased by increasing love and respect for my body.
The main reason most practitioners approach problems from one angle is that diagnosis is based on cause and effect. In my experience, there is rarely one cause to a problem. Just like rain isn't caused by a cloud, there are a variety of factors that create the condition that manifests as a problem. If only one of these factors is blamed as the cause, and treatment focuses on that one factor, often the problem is not fully healed.
I find that it takes time to explore all of the contributing factors to a problem. As I work with a body and solve superficial issues, I often discover deeper aspects that need to be addressed. The process requires patience, careful observation, sensitivity, and compassion.
The biggest problem almost everyone has is not having perfect posture. Even slight imperfections, over time, start to work against gravity, and the body has trouble adapting. Asymmetries are created. Tugs of war happen between front and back muscles. Uneven pulls disrupt the alignment of joints. A problem in the foot may affect the body all the way to the head.
I work to create symmetry and balance. Sometimes it feels like I am a mediator in conflict resolution. The conflict is between the client's brain and body. As I calm down the disturbed part of the body, I am reconnecting it with the brain. Because we don't like the experience of pain, we cope by tuning it out, or by drowning it out with a pain killer. As I reconcile the disturbed part of the body with the brain, a relaxed sense of peace is restored. It feels safe again to feel the body, and the body feels like it will no longer be abused.
Compassion allows me to tune in directly with the body I am working on. It steers me toward the resolution in the most direct way. I am guided where to work, how much time to spend on an area, and I seek feedback from my client in the process. When possible, we check for progress before the session is over.
Compassion itself is a healing energy. With it I can focus 100% without the distraction of unnecessary thought. With compassion, I am just a servant in the healing process.
If the client is interested, after our session I will show self-help approaches that will help to maintain the healing process. I try not to overload them with homework, but it is very empowering for them to learn how to deal with problems as they arise, and how to prevent the same pattern from returning.