The 2019 LoVetri Institute for Somatic Voicework™ kicks off in ten days at Baldwin Wallace University! We are so thrilled to be offering all three levels of Somatic Voicework™ training at this summer's institute; in addition, we are honored to have Dr. Claudio Milstein offering a Vocal Health Intensive for graduates of Level III (July 26-27), and to have Dr. Trineice Robinson-Martin presenting Soul Ingredients® Methodology Course: When Science Meets Soul for graduates of at least Level II (July 26-28). Housing is available for participants both on campus and arrangements have been made with the Sonesta ES Suites for off campus housing (which includes a daily shuttle to the institute). For more details, click here.
(Photographed Below: Jeanie LoVetri with Adele)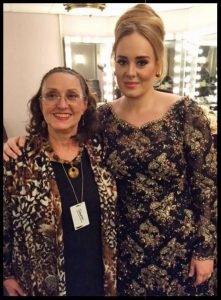 We are honored to have so many already registered for our course which is recognized as both the original and the place to go for summer Contemporary Commercial Music vocal pedagogy. Our guest experts, along with our regular faculty, are top of the line in their individual professions. You simply cannot find this many experts in any other place under the guidance of one of the country's most recognized singing experts. Why not take advantage of a well-vetted, solidly proven course, that has drawn America's, Canada's, and Australia's highest level laryngologists as lecturers, the biggest names in Music Directors on Broadway, the most singer-friendly speech language pathologists, and experts from Gospel, jazz, and rock to present lectures and master classes? This is a highly organized, codified and graded program that many people return to multiple times because it is so densely packed with vital information. The remarks of those returning is always, "I learn something new and go deeper into my own understanding of vocal function every time. It has changed my teaching forever."
(Photographed Below: Jeanie LoVetri at the 2018 LoVetri Institute for Somatic Voicework™)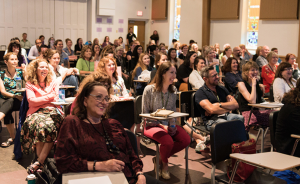 Don't forget, if you are returning you can still take advantage of our huge 50% discount for reviewing. This is the final year to take advantage of the 50% discount for reviewers. We also offer graduates of Level II or III the chance to work with Dr. Trineice Robinson-Martin in her acclaimed "Soul Ingredients" course in Level III and for graduates of Level III, the important chance to learn about vocal health and hygiene from one of America's most recognized Speech Language Pathologists who specializes in working with professional voices, Dr. Claudio Milstein, of the Cleveland Clinic.
(Photographed Below:Andy Einhorn, performing with Audra McDonald. Photo courtesy of Stuart Lowe)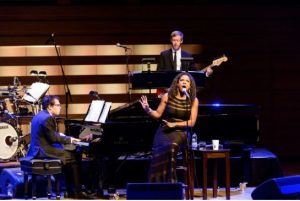 Faculty include the esteemed Broadway music director, Andy Einhorn, who will be presenting a performance masterclass with participants during Level III. Medical experts include, Dr. Michael Benninger, Chairman of the Head and Neck Institute at The Cleveland Clinic who will be presenting an in depth review of vocal health during Level III, and Speech Language Pathologist and Professional Singer, Dr. Chandler Thompson, who will be presenting during Level I. We will be joined by Dr. Karen Erickson (Bodywork Expert) during Level II. LoVetri Institute faculty will also be present during all three levels, including, Michelle Rosen (Senior Faculty), Betsy Fiedler (Senior Faculty), Jeff Costello (Choral Expert), Amanda Chmela (Musical Theater/Classical Crossover), Moran Cohen Talmor (Folk Music), Billy Gollner (Pop/Rock), and Craig Tompkins (Musical Theater).
This Institute is truly unique and we encourage you to join your colleagues for one, two or all three levels of Somatic Voicework™ training. Please remember that reviewers are strongly encouraged to take advantage of the 50% discount off levels already completed as this is the final year such a discount will be offered.