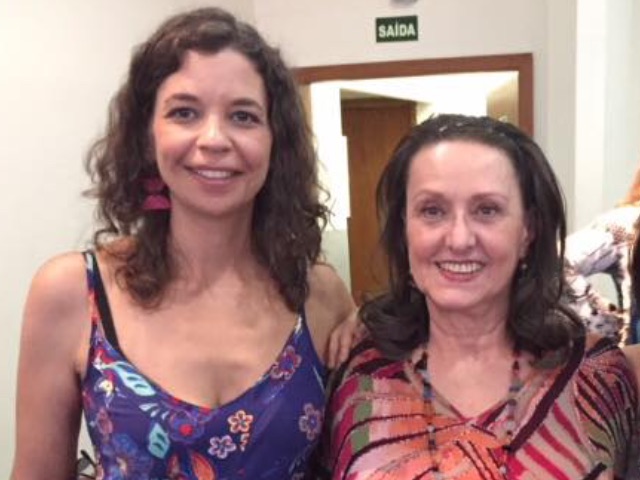 (Photographed above: Joana Mariz and Jeanie LoVetri)

In January Jeanie is headed back to Brazil, what has the reception of Somatic Voicework™ in Brazil been since Jeanie's last visit?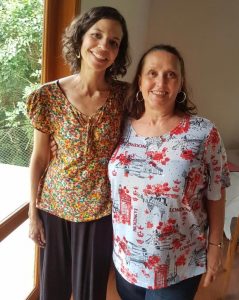 A influência do trabalho da Jeanie e do uso do treinamento funcional aqui no Brasil tem sido marcante. Observo que vem crescendo o interesse dos professores de canto por aprofundar sua formação, buscando mais recursos e mais conhecimento para que seu trabalho se enriqueça.
O relato dos professores que fizeram os dois primeiros níveis do Somatic Voicework™ conosco em 2017 e 2018 é de que o método transformou sua maneira de escutar a voz cantada, ampliando muito suas ferramentas e trazendo consistência a suas abordagens de trabalho.
(Photographed above: Joana Mariz and Jeanie LoVetri)
The influence of Jeanie's work and the use of functional training here in Brazil has been remarkable. I've seen the interest of singing teachers grow since Jeanie's last visit. Singing teachers are wanting to deepen their training, seeking more resources and more knowledge.
Teachers who took the first two levels of Somatic Voicework ™ with us in 2017 and 2018 are reporting that Somatic Voicework™ has transformed their way of teaching; from listening to the singing voice, and greatly expanding their tools, to bringing more consistency to their work.
As someone who has served as faculty on Somatic Voicework™ teacher trainings and has worked with Jeanie for a long time, how has Somatic Voicework™ helped you as both a teacher and a singer?
(Photographed Below: Jeanie LoVetri and Somatic Voicework™ Faculty in Brazil, Cecilia Spyer, Sylvia Cueva, Betinha Amin, Suely Mequita, Marcella Martinez, and Joana Mariz)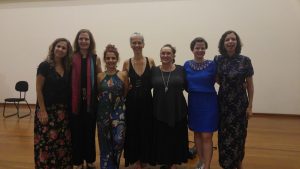 Eu conheci o trabalho e as pesquisas da Jeanie num período em que estava estudando tudo o que podia nas áreas de ciências da voz e pedagogia vocal. Topei com um artigo dela em parceria com o cientista vocal Johan Sundberg que logo me chamou a atenção, pois tratava do trânsito entre canto lírico e popular, habilidade que eu vinha buscando desde o início de minha formação. Depois a vi trabalhando num workshop aqui em São Paulo e me identifiquei profundamente com sua abordagem, tanto do ponto de vista técnico como humano.
Decidi ir aos Estados Unidos para fazer a formação, e de lá para cá posso dizer que o método se tornou uma parte fundamental do meu trabalho – foi e tem sido um grande aprendizado olhar para a voz cantada sob essa perspectiva simples, porém sólida; objetiva, porém acolhedora; técnica, porém encorajadora da descoberta da identidade vocal. Sinto todos os dias, na minha voz e na voz de meus alunos, o ganho cada vez maior de liberdade e domínio. A voz voa!
(Photographed Below: Joana Mariz and Duo Prismas)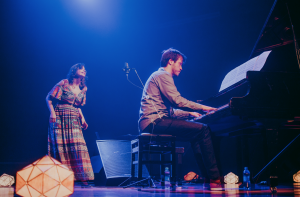 I got to know Jeanie's work and research at a time when I was studying everything I could find in the areas of voice science and vocal pedagogy. I came across an article from her in partnership with Johan Sundberg. The article caught my attention as it dealt with the relationship between classical and popular singing, a skill that I've been keen to develop since the beginning of my studies. Soon after, I saw Jeanie at a workshop in Sao Paulo. I immediately identified with her approach, both technically and at a human level.
I decided to go to the United States to do all three levels of Somatic Voicework™ training. I can say that Somatic Voicework™ has become a fundamental part of my work – it has been great learning to look at the singing voice from this simple but detailed perspective; objective but welcoming; technical but encouraging. I see the impact of Somatic Voicework™ every day, in my voice and in the voices of my students, the increasing freedom and mastery. The voice flies, it's remarkable!
You maintain a very busy schedule as a singer and a teacher; what projects are you currently working on?
(Photographed Below: Joana Mariz with participants at her vocal pedagogy workshops)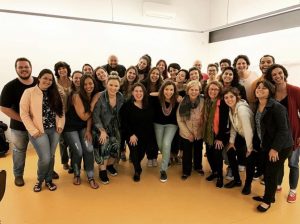 Tenho uma rotina intensa como professora particular de cantores profissionais, profissionais em formação, professores de canto, regentes corais, jovens compositores e cantores amadores, dos mais variados estilos de canto (lírico, MPB, teatro musical, rock, pop – uma salada que deixa meu cotidiano muito intenso e divertido!), além do meu trabalho como professora de canto erudito e popular e fisiologia da voz na Faculdade Santa Marcelina. Minha pesquisa acadêmica de mais de uma década sobre o ensino de canto me rendeu muita procura por parte dos professores de canto, e por conta disso eu venho dando cursos livre de formação em pedagogia vocal que tem sido uma grande oportunidade de troca e discussão com colegas que buscam aprofundamento. Em 2020, vou coordenar na Faculdade Santa Marcelina a primeira pós-graduação em pedagogia vocal do Brasil, e já estamos com vagas quase esgotadas! A pós terá um "Dream Team" de professores e promete ser um marco na história do ensino de canto no nosso país.
(Photographed Below: Joana Mariz with participants at her vocal pedagogy workshops)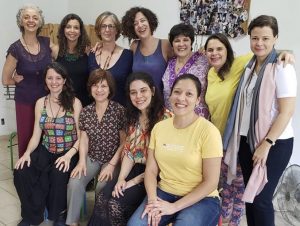 Fora isso, faço parte desse grupo de professores de canto e fonoaudiólogos que pesquisam a voz cantada – o Vocal-SP, desde sua fundação em 2012. Fazemos reuniões mensais para refletir sobre todos os temas que nos interessam e também produzimos eventos que achamos serem importantes para o campo do ensino de voz cantada. Foi numa dessas reuniões que compartilhei com o grupo meus aprendizados com a Jeanie e acabamos decidindo convidá-la para dar a formação em Somatic Voicework™ por aqui. Fora eu, há mais duas professoras que foram aos EUA para fazer o Instituto completo: a Paula del Rio e a Marcella Martinez.
Na área artística, tenho investido bastante no meu duo com o pianista e compositor Marcos Pantaleoni, o Duo Prismas. Nosso trabalho experimenta com muita liberdade o trânsito entre música erudita, popular e experimental, com arranjos e composições originais, e nele eu testo a todo momento meus limites vocais no que diz respeito a timbre, registros, extensão e dinâmica – uma pesquisa que sem dúvida deve muito ao meu trabalho com a Jeanie! Temos nos apresentado com frequência com convidados do meio erudito e popular e com o projeto audiovisual Dinergia, o que nos permite ser meio camaleões e mudar de cara a cada novo show. Em breve gravaremos nosso primeiro CD, o Improbabilidades.
(Photographed Below: Joana Mariz)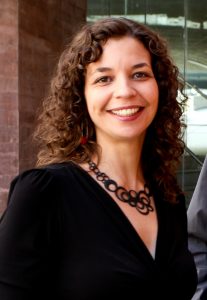 I have a busy schedule as a private teacher working with professional singers, aspiring professional singers, singing teachers, choir conductors, young composers and amateur singers, from the most varied singing styles (classical, music theater, rock, pop – a musical salad which makes my daily life varied and fun!). In addition, I work as a teacher of classical, popular singing, vocal health and anatomy at Santa Marcelina College.
My academic research on teaching singing has garnered accolades and acclaim from singing teachers. As a result, I have been presenting vocal pedagogy trainings and workshops which have been a great opportunity to exchange and explore vocal pedagogy with colleagues.
I am very excited to announce, in 2020, I am coordinating with Santa Marcelina College the first postgraduate degree in vocal pedagogy in Brazil, and we are almost full! The course will have an absolute 'Dream Team' of teachers will be a milestone in the history of vocal pedagogy in Brazil.
What advice do you have for artists pursuing a career in Brazil?
(Photographed Below: Joana Mariz)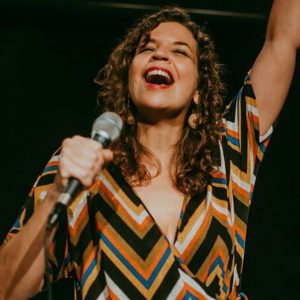 O primeiro conselho é resistir e insistir! O trabalho artístico é difícil e tem sido mais difícil por aqui nos últimos tempos, como sabemos… Por outro lado, tenho visto muita coisa bonita desabrochar e um grande movimento de união da classe artística. É preciso dedicação, organização, planejamento e objetivos claros e passíveis de realização num prazo curto, médio e longo. Olhe para os espaços em que você pode se encaixar, concentre suas energias, encontre parceiros de criação e siga em frente!
My first piece of advice is persistence! Making a living as an artist is hard and it is only getting more difficult, as we know… On the other hand, I have seen a lot of growth and exciting artistic adventures take off. Success takes dedication, organization, planning and clear and achievable goals in the short, medium and long term. Look into areas of the profession that you can fit in, focus your energies there, find creative partners, and jump on new opportunities!
Please check out more from Joana Mariz:
Duo Prismas Band Site, Site do duo Prismas: www.duoprismas.com
Link for Vocal Pedagogy Program at Santa Marcelina College, Site da pós em pedagogia vocal
Facebook:
Instagram:
Youtube:
Links to Joana's Research:
Link para download da minha tese sobre a terminologia do canto:
https://repositorio.unesp.br/handle/11449/110657
Link para artigo sobre metáforas no ensino de canto
http://www.scielo.br/pdf/rsbf/v15n3/03.pdf
Link para artigo sobre o ensino de canto popular
https://www.publionline.iar.unicamp.br/index.php/muspop/article/view/998/1038