Dear Friends and Colleagues,
Heading into fall, Jeanie just visited the Washington, D.C. area. The teacher support weekend incorporated an open session on Friday night and welcomed auditors on Sunday afternoon. Those who are not familiar with Somatic Voicework™ were able to see Jeanie in action and speak directly with her.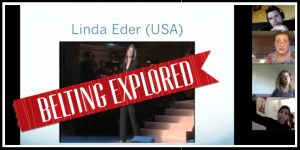 We have also just wrapped up our two wonderful new webinars, Belting Explored and An Introduction to Somatic Voicework™. We are so grateful for the positive response to the courses. Please keep your eyes peeled for an announcement about our next wave of online courses being announced soon; if you'd like to be on the mailing list for early registration please click here. Belting Explored has participants from the USA as well as Sweden, Brazil and Canada. Participants have been sharing very favorable comments and are expanding their ears and minds on this sometimes confusing topic. The second webinar was our first online course that was open to anyone who is interested in learning more about Somatic Voicework™. This course will be offered again in the future, so if you are someone in that group or know another individual who is curious, please forward this email to them.
Many of Somatic Voicework™ teachers are back into the fall semester (in the USA and Canada) and using their vocal function tools with students in grade school right through graduate and doctoral students, in choirs and individually. Many are performing themselves in venues all over the world. If you are a Somatic Voicework™ teacher and you would like to let others know about you and/or your studio, please be in touch with our Newsletter Editor, Billy Gollner, here.