Greetings, fellow singers and teachers! We welcome spring weather here in the USA and we hope that everyone is enjoying the budding of the flowers and trees (although we extend our condolences to those who are sneezing, wheezing and blowing!)
Things are developing with Jeanie's first book, "Notes on Singing." Dr. Karen Hall, Editor, is working on organizing Jeanie's writings into book form. It will be distributed by Compton Publishing sometime in late 2020 or early 2021.
During the week of April 22nd, Jeanie went to Los Angeles to work with the cast of Atlas at the request of composer Meredith Monk, and Yuval Sharon, director, of this production with the Los Angeles Philharmonic. The opera, which will be presented in June at the Disney Hall under the baton of Maestro Paulo Bortolameolli, was in early rehearsal and Jeanie was able to work with the whole company as well as individual vocalists to help them achieve their singing goals. If you are in or near LA in June, treat yourself and go to see Meredith's gorgeous opera which will be unlike anything else you may have previously seen. It hasn't been mounted in full since the early 90s, so it will be a special treat to see it again with a really excellent cast.
In May, Jeanie will again be attending Symposium: Care of the Professional Voice presented by the Voice Foundation in Philadelphia and presenting a workshop on true "crossover" singing. She remains on the Advisory Board, is an adjudicator for the Best Student Presentation Award and a Coach for the Presenters through the Outreach Committee. She encourages everyone to attend this important conference. For further info, click here.
We ask your support and help in sharing our "Belt Study" with your friends, colleagues and students. We need as many responses as possible from professional belters by July. Please click here to complete the survey.
(Photographed below: Jeanie LoVetri, Dr. Melissa Forbes, and participants from Somatic Voicework™ training in Australia)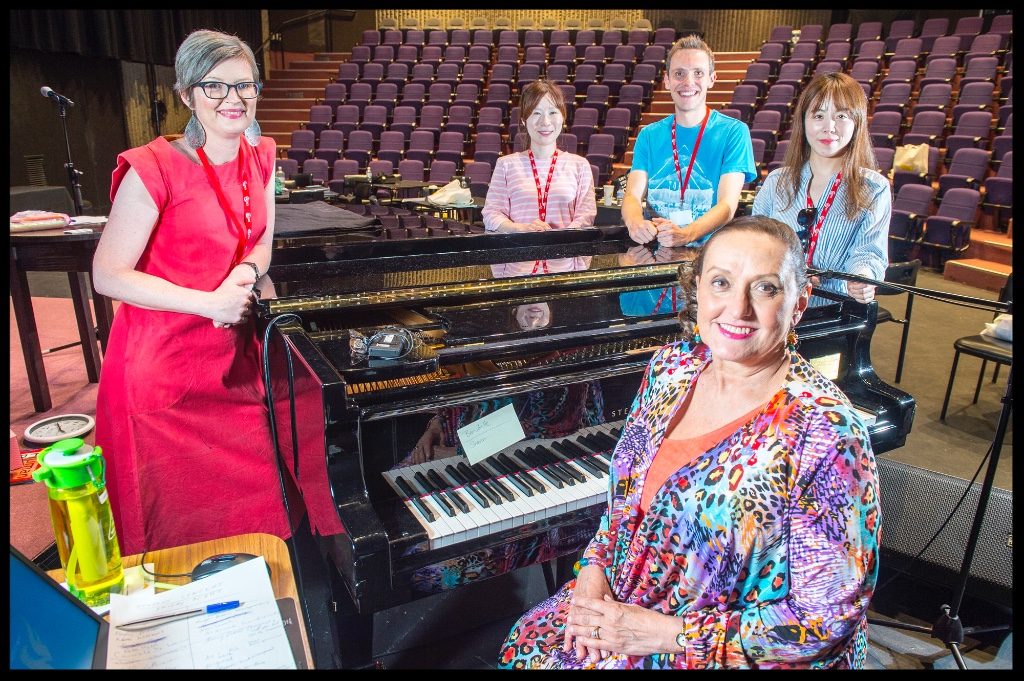 Jeanie is pleased to announce that Dr. Melissa Forbes's presentation has been accepted for the Pan-European Voice Conference (PEVOC) in Copenhagen, Denmark, in August. Dr. Forbes' will be interviewing Dr. Irene Bartlett, of Queensland Conservatorium in Brisbane, Australia, and Jeanie, about their unique paths that helped establish the academic credibility of CCM pedagogy half a world apart, at the same time. Jeanie and Irene will share their distinct but related explorations and their collegial friendship as Melissa moderates and asks questions. It should be a great deal of fun.
In early September, Jeanie will be going to Barcelona to join New York colleague Mary Saunders-Barton for a four-day seminar on American Music Theater. This conference is open to the public and will feature master classes by both experts and a panel discussion at the end. For more information or the register, click here.
The LoVetri Institute for Somatic Voicework™ at Baldwin Wallace University in July is filling up with eager registrants from near and far. More and more teachers are interested in functional training for CCM based on voice science and vocal health. We are again fortunate to have ASHA credits available for Speech Language Pathologists who work with singers. Also, for the first time we are able to offer CEU credits for K-12 music educators. We urge all of you who are interested to join us this summer in Berea, Ohio (just outside Cleveland) for 9 days (in three-day segments) of education, information, applied skill building, dynamic interaction, joyful fun, and many yummy and healthful snacks!
Jeanie is hoping to visit Las Vegas in October and perhaps also Brazil in January of 2020. Discussions are ongoing and dates will be confirmed as soon as plans are finalized. In April, 2020, she will be the keynote speaker for the New Zealand Association of Teachers of Singing, and other destinations for 2020 are being discussed!
(Photographed below: Jeanie LoVetri at Wellesley College, April 2019)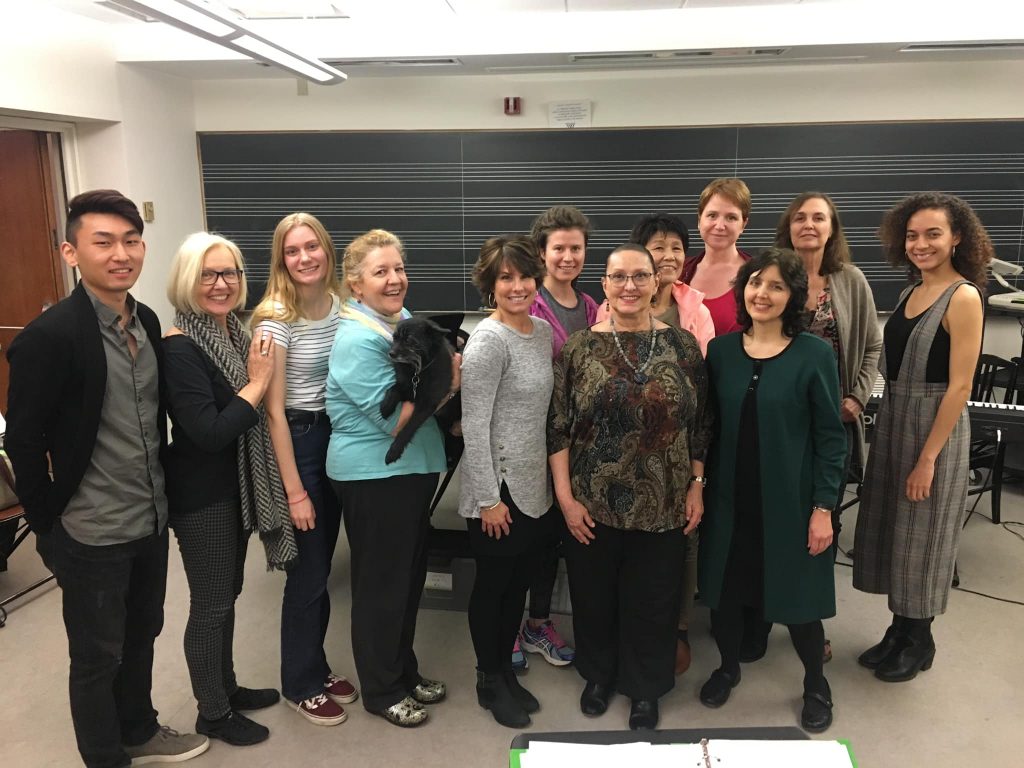 Jeanie had a great time in Boston over April 12th to 14th, working at three universities in three days! The Friday afternoon sessions at New England Conservatory were arranged by Dominique Eade for the New England Conservatory students. The evening session was open to the general public and presented as an introduction to Somatic Voicework™. On Saturday, Jeanie was at Berklee College of Music as arranged by Lisa Thorson, Kris Adams and Kaoruko Pilkington (all Berklee faculty). Jeanie was able to do a master class for students of Berklee teachers and other Somatic Voicework™ teachers in the area. We had some real breakthroughs — the kind that startled the student (and everyone else observing) — into tears of joy. It was an incredible moment.
On Sunday, thanks to Kris Adams, Jeanie was able to work with the students of Wellesley College. We had some great "ah-ha" moments, such as listening to a young tenor transform his voice while singing a pop song in Mandarin! Jeanie wishes to thank Celia Slattery, who provided her a warm and welcoming place to stay and transportation to everything. On Saturday evening, Jeanie, Lisa, Kris, Celia, Kaoruko and her husband, Bob, all had dinner where Jeanie was again feted for her 70th birthday by her Boston friends. She would like to thank Celia, Dominique, Kris, Kaoruko and Lisa for their organizing of this weekend event so efficiently. She reports it was an all-around real treat! If you would like to host Jeanie for a teacher training weekend in your area, contact us by clicking here.
The day of Jeanie 70th birthday was quite a festive occasion. On that afternoon, April 2nd, Jeanie's doorbell rang and Theo Bleckmann arrived joined by Upper West Side neighbors and Somatic Voicework™ grads, Cathy Lawrence Schwartzman, Susan Pereira, and Katherine Hendry, with a gorgeous orchid, a bottle of champagne and a rousing chorus of "Happy Birthday". After sharing a champagne toast. Theo presented Jeanie a birthday card from more than 40 worldwide Somatic Voicework™ teachers who had each contributed to a "birthday fund" for Jeanie. She's putting those funds to use by hiring a professional organizer to do a much-needed cleanup of her office and studio and will maybe also have a bit left over to sneak in a couple of days vacation. She wants to sincerely thank Kate McGarry for organizing this wonderful gift and all who contributed to it. It was a very special day indeed.
If you are a Somatic Voicework™ graduate, please send us your activities as we are happy to share your adventures and accomplishments with all who read this newsletter. Each of you matters in our Somatic Voicework™ community and we are all enriched by each others' successes.