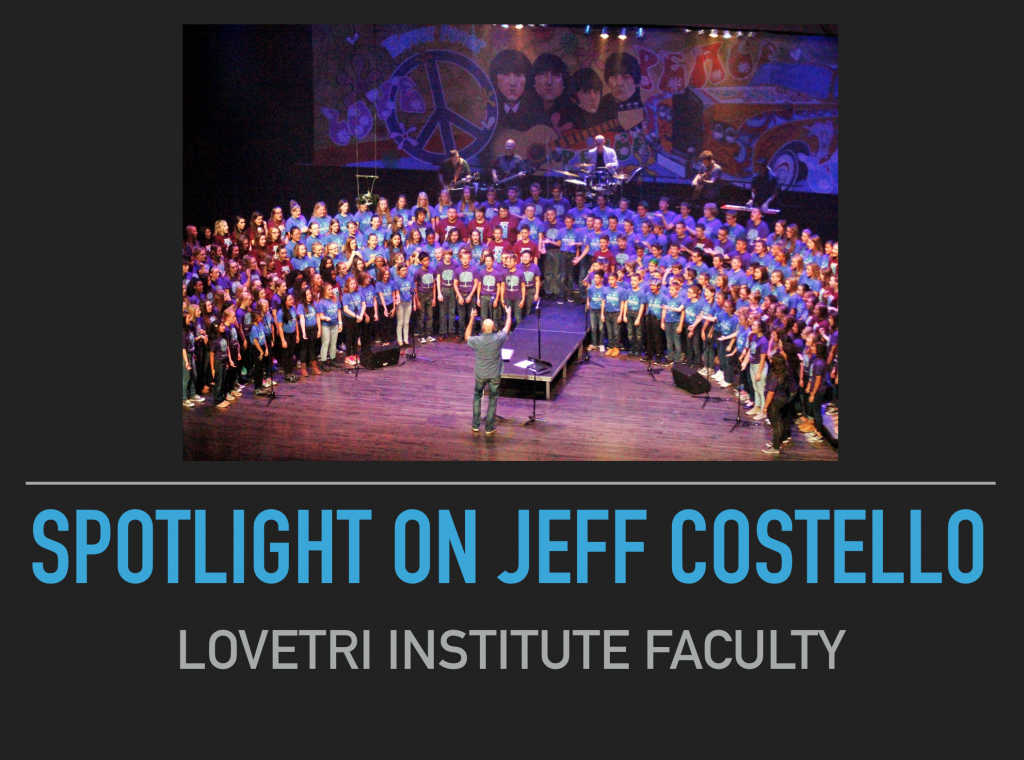 You are a choir director extraordinaire! You put on incredible rock-choir performances each year with your school choirs, how did this come about and what has the reception been?
(photographed below: Jeff Costello performing with his band, Kos & Kos)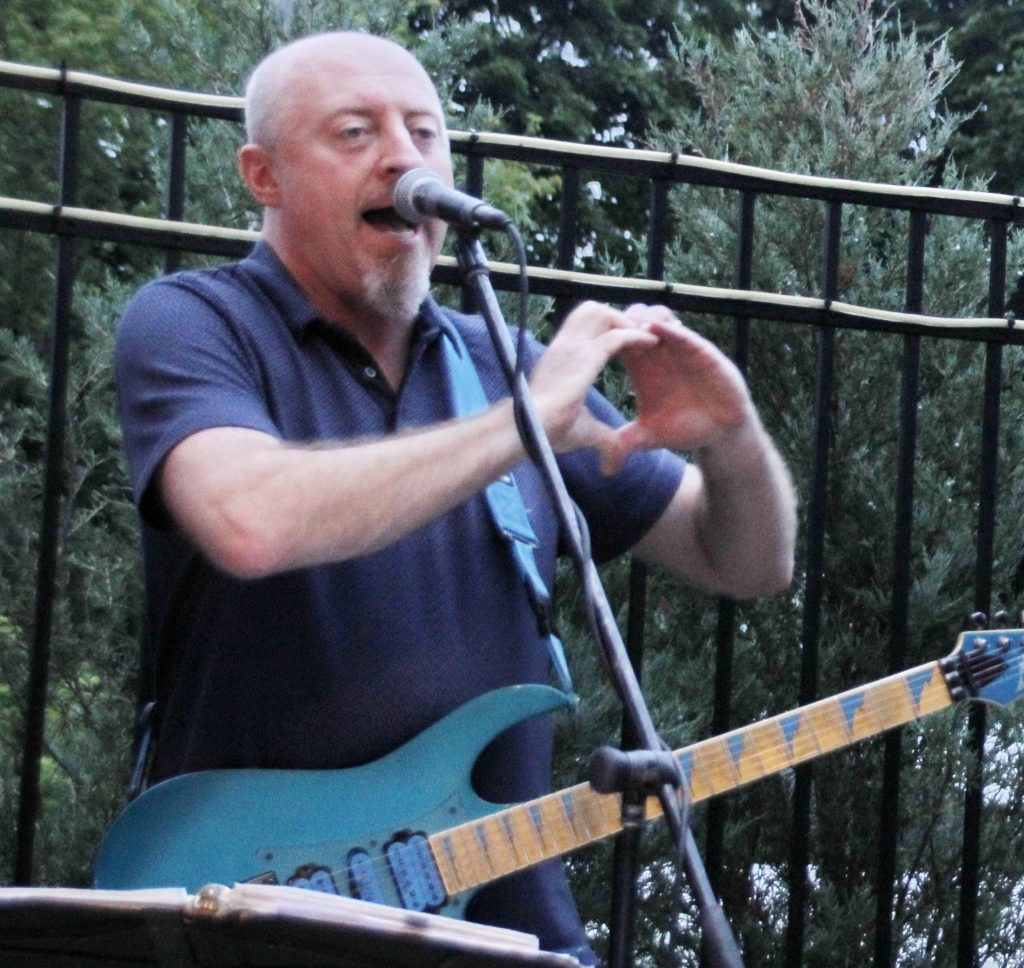 Oh my goodness, let's not get carried away, but thank you for the kind words. My public school choral program is definitely different from most but I feel this is the direction the choral music world needs to go in order to survive. And, by "survive" I mean maintaining large programs and not shrinking programs of specialized choral singers. My students get a real world, full rock band accompanied Spring Concert experience every year. Because of this experience, they should feel much more confident stepping into a Praise Band at church, a local pop/rock band, or even singing karaoke in public.
My shift away from a more traditional, Classical choral curriculum to that of a more CCM based, student driven curriculum began in 2008 when I was first introduced to Somatic Voicework ™ and the teaching of Jeanie LoVetri. Hearing Jeanie say that ALL genres of music deserve equal respect really resonated with me. A highly respected teacher was finally saying what I had been thinking for years. I suddenly felt like I was HOME!
The reception has been great! Two of the last three years' Spring Concerts were covered by a local TV news station and I have 30 more students this year than I had last year. People are starting to pay attention to what we are doing, which is very exciting.
What is the theme for this year's concert?
(photographed below: Jeff Costello presenting at Middle Tennessee University)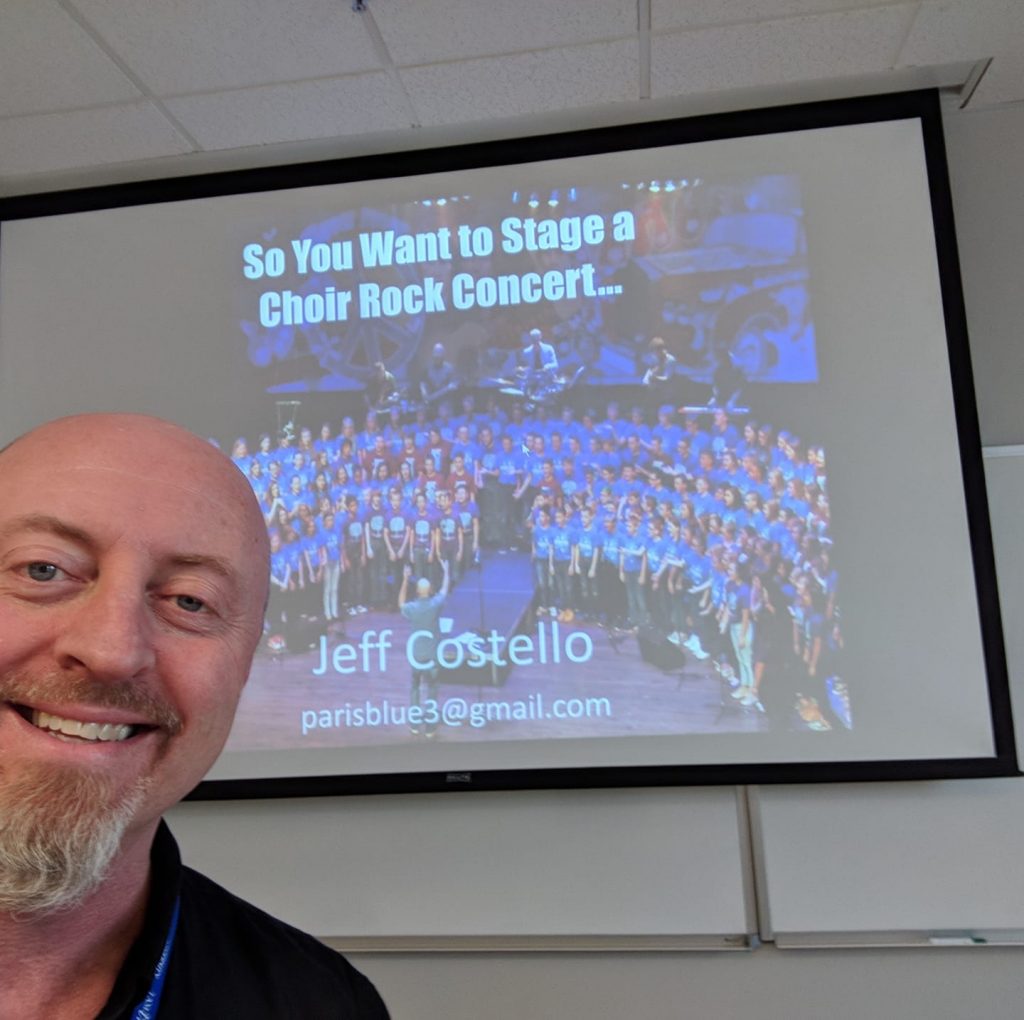 I'm so thrilled and honored that you asked this question because it means people are taking notice! Three years ago we started this with the Rock of Ages Concert. Two years ago it was the music of the Beatles and last year it was I Love the 70s. The logical progression, especially given the fact that I'm a child of the 80s, would have been to go with MEGA 80s! But… after much thought, I decided to go without a theme this year and here's why: Given the success of the songs from films such as The Greatest Showmen, Bohemian Rhapsody and A Star is Born, I decided that limiting our selections to only 80s music would systematically eliminate so many great songs as options for this show that kids might want to sing and audience members might want to hear therefore we are without a specific theme this year and all music options are on the table.
Our combined opener (260 singers) is The Greatest Show, the opening number from The Greatest Showman, and our combined closer is a medley of 90s/2000s Boy Band/Girl Group hits that I arranged. In between we have music by Queen, Panic! At the Disco, Taylor Swift, Smashmouth, Toto, Kenny Loggins, Vance Joy, Miley Cyrus, Andra Day and Billie Eilish.
How do you incorporate Somatic Voicework™ in a choral setting?
I use Somatic Voicework constantly in my choral classroom. My singers learn about chest, head and mix and we talk about it all the time! I want my singers to know how to "sing smart" with the right approach to each pitch range based on the genre of the music we are singing.
You have been a member of Somatic Voicework™ faculty for several institutes, what keeps bringing you back to Somatic Voicework™? What are you most excited about for the future of Somatic Voicework™?
(photographed below: Jeff Costello in his recording studio)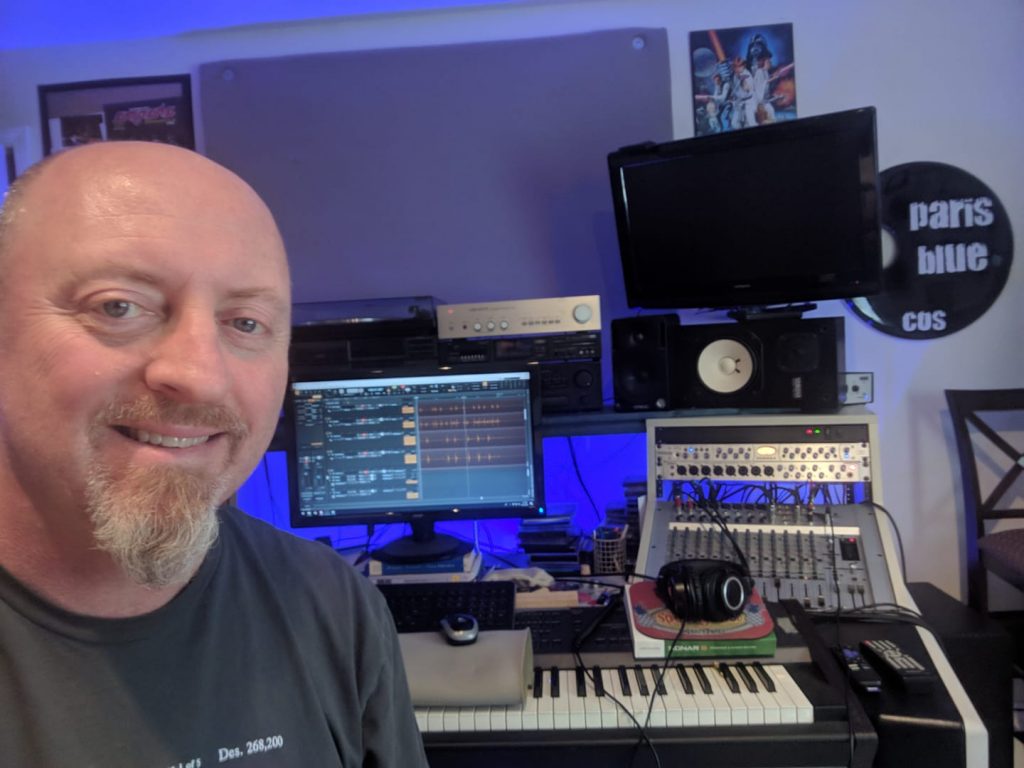 In 2008 I immediately connected to Jeanie and her work on a personal level. Soon thereafter I realized that her work was very complex in its reach and application, and each time I attended I gained a deeper understanding of it. Realizing that made me decide to come back year after year. I have met so many great people who are now close friends of mine, which has been a wonderful perk from attending. Many of us call it "Summer Camp for Voice Teachers!" It's where we come to connect and reconnect. I feel truly blessed to have been asked to come on as everything from Faculty In Training to, Associate Faculty to, Assistant Faculty, etc. I also really enjoy my work as a sound engineer so it's been a thrill for me to have been able to step into that role as well.
You also have a few musical projects of your own including; Paris Blue and Cos & Cos, what can you tell us about those projects?
(photographed below: Jeff Costello performing with his band, Cos & C os)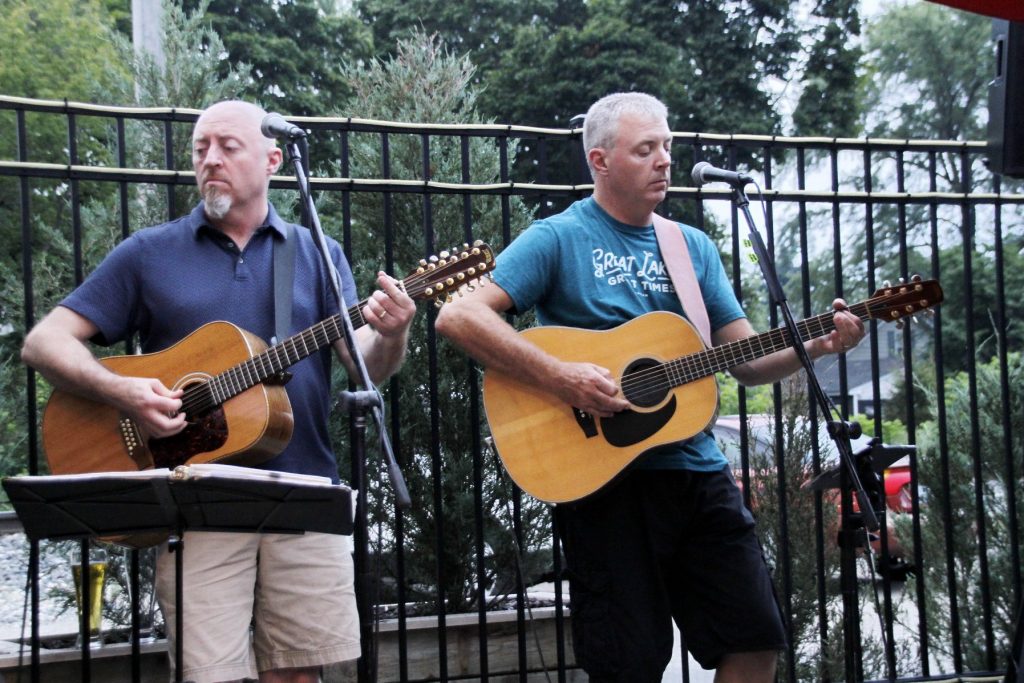 My full rock band, Paris Blue, in which I play drums, sing backup vocals and am the sound engineer, actually just released a new album of all original material in March. The album is called Rise Above and is available on basically all the regular music streaming sites and is also available to listen to on YouTube (see links below). Cos & Cos is a Classic Rock acoustic duo with my brother (who is also in Paris Blue) that we have had going since 1995. We play the local pizza joint and a few other places each year and have lots of fun while performing in a more low key, casual way.
Please check out more from Jeff Costello:
Facebook Cos & Cos: https://www.facebook.com/Cos-Cos-115390398501934/
Facebook Paris Blue: https://www.facebook.com/parisblue01/
YouTube: https://www.youtube.com/user/parisblue01