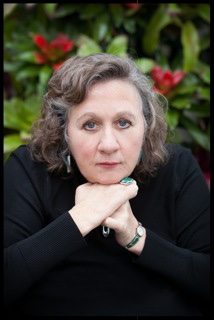 Your work as both a singer and pedagogue has spanned several continents; can you tell us about your work and how it has evolved over the years (i.e. the switch from musical theatre to jazz focus, etc.)?
Musical theater became my sole focus through high school and then at Boston Conservatory where I was musical theater major training in music, voice, dance and acting. It was a rigorous, challenging and all consuming program that taught me about all aspects of the theater and musical theater at that time. The program also provided invaluable experiences on the technical crews and as a director and collaborator. I did the summer stock, then small professional productions in the Boston area as well as two summers as a singing waitress on Cape Cod 6 nights a week. That experience certainly taught me that better vocal technique was needed to sustain my "Broadway" goal. I had a naturally strong voice and had had some good foundation with two "classical" voice teachers from the age of 16, both whom embraced musical theater and the reality of chest voice and belting, but at the end of one summer when I had no voice for two weeks, it was clear that too much singing and too much partying were not sustainable!! Luckily I had no vocal damage, but it was an important lesson learned.
In 1979, during my senior year, I experienced a life altering accident, which resulted in a permanent spinal cord injury. Since that time, I've used a wheelchair. The story of my injury and rehabilitation back into my daily life and into the world of the performing arts has been well documented many times! I encourage your readers who would like to know more about that process to refer to the interview links by clicking here. One article is with Tim Gilmer, editor emeritus of New Mobility Magazine and the other with Dr. Sascha Feinstein, editor of "Brilliant Corners", a jazz and literature journal.
My tran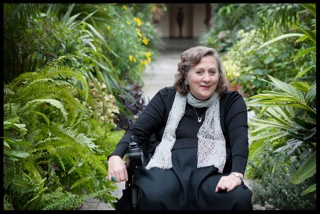 sition to jazz was unexpected but necessary. The worlds of theater and the performing arts were not accessible or particularly welcoming to those with disabilities. I struggled to be 'in that world' with many allies who were and are still trying to create a more inclusive creative environment. Yes, I regained my ability to sing, slowly and steadily first with Barbara McCloskey, then with Edwin Gray, and was involved with many theatrical productions and some commercial work but it was never going to be a real career for me. I started singing in cabaret productions where the repertoire included many of the classic American standards. The transition to becoming a jazz singer started unfolding and once I was hooked, I couldn't get enough of it. I knew I could thrive in that musical environment as my voice and the skills I had fit the genre. Although barriers to clubs and the closed minds of booking agents persisted, (and still do), my disability didn't define me. I was set free physically, emotionally and creatively. Sheila Jordan and Dominique Eade, and other important mentor/teacher/musicians, along with my musical collaborators, some of whom are still in my quintet, were intrinsic to my growth and success as a jazz vocalist.
You currently teach at Berklee College of Music, what advice do you think is most important for people planning on embarking on a career as a professional singer in today's climate?
Identity, flexibility of craft and style IF it is called for, creative business acumen, intestinal fortitude, a collaborative spirit, honesty, authenticity and skill.
You maintain a very busy schedule as both a singer and voice teacher; what projects are you currently working on?
(Photographed Below: Lisa Thorson with her quintet)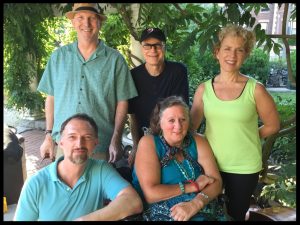 As a full time Professor, the teaching demands, which I am happily ensconced in often take priority over my creative pursuits. I am still performing with my quartet and quintet although not as much as I would like for a multitude of reasons. I'm always working on new repertoire as a creator or interpreter.
Two more recent academic projects that are in process are a resource called "The Post 1960 Jazz Vocal Repertoire Project" which is an outgrowth of my 2016 sabbatical. This website will be available on Berklee's Library site beginning in 2019. I've also been working for many years on an eBook called "Without Words: Inspiration, Discovery and Practice". It's topic is the art of singing without words and will contain interviews with practitioners of this largely improvisational way of singing as well as a collection of recorded songs with lead sheets and learning templates in the genre that can be used to enhance technique and creativity. It is not a book about scat singing. This has emanated from my own experience singing music without words in improvisational settings as well as my use of this material in my teaching.
How has Somatic Voicework™ helped you as a singer?
I've gained greater knowledge and clarity about my voice and its idiosyncrasies. Certainly I've gotten fantastic guidance and concrete tools to diagnose, retool, retrain and just improve my technical capacity so that I can have a flexible dependable instrument.
I could write about 10 pages here about how important Jeanie has been to me as an inspired teacher, mentor, a guru, a friend…. And so much more. She has had such a profound influence on my life as a vocalist, creative individual and teacher.
How has Somatic Voicework™ helped you as a teacher?
(Photographed Below: Lisa Thorson with students at Berklee College of Music)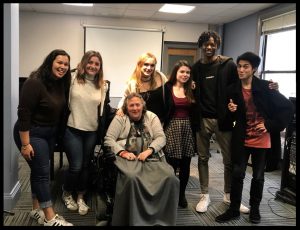 It opened the window for me on functional singing, voice science, and the real mind body connection in our craft. The technical tools for assessment and suggested exercises to elicit a desired response have been invaluable.
Also, what has been very important for me has been gaining a more observant eye and ear when working with my students. It is a creative and not one size fits all approach that I fully embrace. Often in my lessons, Jeannie would not even look at me for periods of time and just listen and suggest and then Voila!, there was a change or shift that opened a window.
Over the past few years I've realized this is really hearing function; certainly Jeannie's mastery of voice function is a primary driver, but her listening skills and intuition are as important. I've learned to trust that I can rely a bit more on all of the aforementioned in my teaching. However, some days I still feel like all I want to do is just study vocal function! The learning path is endless and that is wonderful.
Anything else.
The Somatic Voicework™ community Jeanie has created and nurtured has been an incredible gift. The trainings I've done in years past as well as the recent webinars are an incredible resource of committed vocalists and teachers from all styles of music that are supportive, inquisitive and an extremely valuable to me as we all gain greater knowledge about the human voice and its ability to transform lives and our world through teaching and creative artistry. They are one and the same to me.
Both my jazz singing and teaching careers were unexpected gifts, never even conceived of as a 15 year old, hell bent on a Broadway career. The same holds true for Jeanie's Somatic Voicework™. It has changed my life immeasurably for the better.
For more information about Lisa's performances, recordings, projects and teaching visit www.lisathorson.com and sign up for her mailing list.
To check out Lisa's recordings on CD Baby: Click Here
To check out Lisa'a YouTube Channel: Click Here
Listen on March 27, 2019, Noon-1 pm of a live broadcast of Lisa's Quartet from Mechanics Hall, Worcester, MA, streaming at WICN.org