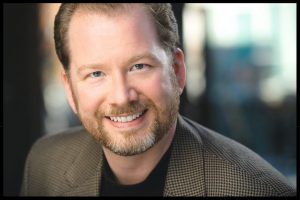 Photo: Martin C. Hurt
You are a very busy voice teacher in New York City; can you tell us about your studio and your work with AMDA, Kean University, & Fairleigh Dickinson University?
Thank you for the interest in my work! Yes, I'm very busy these days teaching between 30-40 voice lesson hours per week, and enjoy every minute of my time with each client!
(Photographed below: Martin C. Hurt in Promises, Promises)
I have been a private voice instructor here in New York City and in New Jersey since 2006. My busy NYC studio consists primarily of musical theatre professionals, as well as a number of singer/songwriter and jazz artist. My New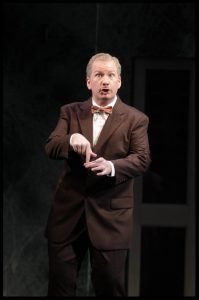 Jersey clients include adult semi-professional and avocational singers, older singers who have found me in their search for help in regaining lost or challenged vocal ability, and adolescent singers of all levels.
I teach Individual Voice at The American Musical and Dramatic Academy (NYC), a theatre arts conservatory program offering both a two year certificate degree and a BFA. My students there are enrolled in either the integrated (musical theatre), studio (acting), or dance programs.
I teach private voice for the theatre programs at Kean University (Union, NJ) and Fairleigh Dickinson University (Madison, NJ). These programs offer both BFA and BA theatre degrees and include up to two musicals and numerous plays per academic year as part of their offerings.
As a seasoned performer, having worked professionally in Musical Theatre in New York City, on National Tours, etc., what do you think are the important keys to success for emerging artists?
(Photographed below: Martin C. Hurt in the national tour of Pajama Game)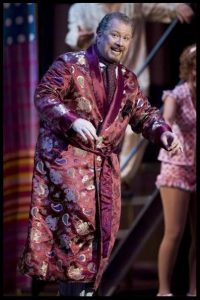 Emerging artists and young professionals should:
Be ready
Be available
Be versatile
Be fearless
Being ready means knowing the market and how to fit into it. This includes having a good handle on technique including singing (listed first only because I'm a singing teacher), acting, and dance. Often opportunities come quickly and with little time for preparation. The performer who is able to jump into the material, embody a character, make interesting choices, handle vocal acrobatics with ease while connecting to the character, all while being friendly and fun, will be in a prime position to succeed.
Being available means not only physically at auditions, etc., but also available as a presence in the professional theatre community. Directors, Musical Directors, Choreographers, Casting Offices, Agents, Career Coaches (yes, one of my clients told me today that he booked a new musical reading through his career coach who knows a writing team!), Voice Teachers, Vocal Coaches, Pianists, Acting Colleagues, Assistants to Assistants… Being available and having comradery with these people creates opportunity.
Being versatile means understanding style and possessing the ability to convincingly play varying material with ease. This calls for optimum technique as a vocalist, actor, and dancer.
Being fearless is self-explanatory! Jump in and DO! Create opportunities! Be open to all possibilities!
You've also sung Opera professionally; do you find it challenging to keep your voice flexible to sing the demands of both CCM and operatic literature? How do you navigate living in both those worlds as a performer?
My training, both undergraduate at Virginia Commonwealth University and graduate at The Manhattan School of Music, was traditional music school/conservatory training geared toward a career in opera/concert singing. I really only pursued that line for about three years after graduating. I was lucky enough to perform with a number of regional opera companies and orchestras, but my heart was always in the theatre. Many of my professional theatre roles were either legit musical theatre such as Mr. Snow in Carousel, or character roles such as The Cowardly Lion in The Wizard of Oz. I wish I would have had the benefit of studying with someone like Jeanie LoVetri when I was a younger performer because my technique at that time didn't facilitate the more contemporary musical theatre or pop sound that began to be a necessity in the early 2000's. I have found that exploring and refining a CCM technique only expands what my voice can do in all genres. This is also true for my
students. Function is the foundation which facilitates versatility.
When did you first meet Jeanie LoVetri?  What has Somatic Voicework™ done for you as both a teacher and a singer?
(Photographed Below: Martin C. Hurt & Jeanie LoVetri)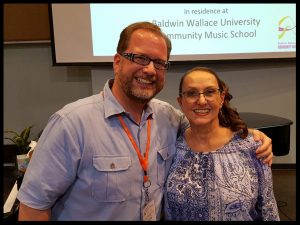 I completed Level I at City College in NYC in 2013 and that same summer completed Levels II and III. I then reviewed level II in 2014. I once again reviewed, this time all three levels, in summer 2017 at the first LoVetri Institue at Baldwin Wallace University. I have just recently begun regular private lessons with Jeanie (none too soon!). Jeanie and Somatic Voicework™ have given me the tools and confidence to work with any client who may walk through my studio door. Certain instincts which I relied upon in the past were given a tangibility. Certain fallacies in my understanding of the vocal process were given clarity. I was given permission and encouraged to be curious. To seek further knowledge when the answers don't make sense. I was encouraged to be patient and let the process work, free from manipulation, allowing the body to dictate when and sometimes how changes happen. And I became part of a community of experts from a vast array of backgrounds, all willing to
share their knowledge for the collective advancement of the art of communication through the singing voice.
You present a few different exciting workshop series, can you let us know what those generally entail?
(Photographed Below: Martin C. Hurt)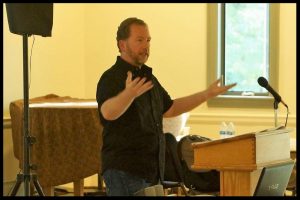 I have regularly presented vocal health workshops along with my friend and SLP Ann Rooney BM, MS, CCC-SLP. We have presented in New Jersey for various private music organizations and for educator professional development in the public schools around central New Jersey.
I have also developed a presentation called "Complete Performance – The Insider Master Class." This is designed to inform young performers what to expect when pursuing a career as a theatre professional in NYC and to help equip them to be better prepared as they begin their careers. Material covered includes current business practices as well as current performance practices. Each presentation is geared toward the needs of the specific group and may include work sessions with individual performers. It has been presented at University programs and private theatre schools around the eastern United States.
Additional Information:
Facebook Pages: Martin C. Hurt Vocal Studio (https://www.facebook.com/Martin-C-Hurt-Vocal-Studio-125039310908916/)