Guest Interview by Billy Gollner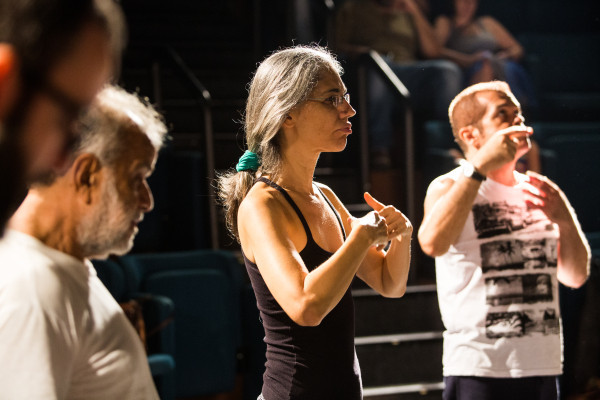 How did you get started in music?
I've been singing since I was a little kid, I was attracted to music; my mom signed me up for piano and guitar lessons. Many years later, I began singing in choirs, when I was 19 I began singing lessons with a classical teacher.
As a Brazilian singer, the most important element for learning and growth was singing with friends, learning and teaching informally from one another.
Where did you go to college and what did you study?
I studied Psychology. My family didn't support the idea of going to Music School. My mother played piano and guitar, we listened to lots of music at home but music was considered something fun that people did at home; it wasn't really considered a profession.
In my third year of studying psychology, I was certain that I did not want to work in the field. However, I finished the degree and have never worked a day in psychology.
How did you get your professional start in music?
I had my first show when I was 19, it was a complete failure for everyone in the band. In fact, we broke up and didn't speak for a whole year. This was traumatic. You see, with popular music education at the time, you really had to guess, popular singers didn't have teachers or concrete ways to learn. It was trial and error. But I think music chooses you and I couldn't quit.
In 1979, after my first show, I began composing songs and singing in a few groups but it was very indie and not commercially relevant. The popular music market was very polarized, you had the millionaires and then everyone else, it was very hard to make a living just singing, so I turned to teaching to make a living in music.
To make a living just singing, this is still hard, perhaps it's even more difficult today. I turned to teaching, other friends turned to backing vocals, jingles, and some were crooners in big bands. Others became studio managers or audio engineers; some were hired as musicians or background singers for big stars. While others developed parallel careers as composers to other singers, arrangers, or choir maestros.
Many of us turned to something outside music to make a living: I worked for 10 years as a translator after my daughter was born.  Even big names in Brazilian music did this, like Vinicius de Moraes (diplomat), Aldir Blanc (psychiatrist), Guinga (dentist), Jose Miguel Wisnick (teacher in the university) and others.
How did you start your professional life as a teacher? What were the challenges?
I had been taking voice lessons for four years with a Classical teacher and I was singing in a choir. I began teaching with the singers in the choir. To my surprise, I started to notice what the singers were doing, I watched singers have trouble and I realized that I knew what was happing, sort of. So, I started helping people, I began giving lessons for my own improvement (as a teacher), so I was not charging for these beginning lessons.
At that time, there weren't popular singers giving lessons in Brazil, everyone studied with Classical teachers. While this training was precious, it was incomplete; the singers didn't know anything about microphones, female singers were trained mostly in head voice, singers were not being trained in a way that met the demands of the marketplace. Contraltos and male voices had more to gain from traditional classical approaches while Sopranos, like myself, were heavily trained in head voice, and then trying to sing in chest. This was the main issue, here and all over the world!
So I began developing a way to train singers who knew they wanted to sing popular music. My generation was full of pioneers in the sense that we were giving lessons to popular singers.
There wasn't a formal pedagogy; we were learning with the students, we didn't want to cheat people.
So, we began a study group in 1991, this was a turning point, the group was called Grupo De Estudos Da Voz (GEV). One of my colleagues from GEV, Felipe Abreu, perhaps the most renowned voice teacher in the popular field in Brazil, is absolutely brilliant and was the first person to really help me begin to understand the issue of registration.
The group started with 20 people, at first, most of us were singers, voice teachers, choral directors and SLPs. We started mentoring one another in how to teach lessons in a popular context; we would share the challenges we were encountering, discussing difficulties our students were encountering, we'd collectively work to address the problems.
We hired SLPs and Laryngologists to come in and lecture our group; we also hired self-taught, excellent singers to come in and tell us how they learnt, how they studied. We began to create a pedagogy that was useful to teachers and singers, and that was fully adapted to Brazilian music.
Most of the teachers in the group had a classical background, we were not denying what we had learnt from our classical teachers, we were adapting to the demands of popular music.
The group still exists today and has played a huge role in the growth and development of several generations of singers, especially in São Paolo.
When did you meet Jeanie LoVetri? What did her work do for you?
I first met Jeanie in 2005; Jeanie had come to São Paolo with an SLP named Mara Behlau. Mara was the first person in Brazil who brought Jeanie to talk about Somatic Voicework™. We came in trusting Mara's name at first. In 2005, we had already had lots of foreign famous teachers come to Brazil but none of us had ever come across Jeanie's work. The course was full and many of us were blown away by Jeanie's work. This was the first seed; since then, many Brazilian singers and voice teachers have completed the Somatic Voicework™ training, and Jeanie's name is really well known and respected among the voice teaching community here.
When Jeanie first presented, I immediately identified with so many things being said, things I was saying to my students but I'd never heard from other people; at the same moment, I knew that Jeanie knew exponentially more about the subject than I did, I realized that she was the teacher of my dreams. I knew she was someone who I wanted to know, I needed to get close to Jeanie.
I was impressed with how Jeanie talked about Contemporary Commercial Music (CCM), I was enamored with how she interacted with singers, I was so impressed with the emphasis on registers in Somatic Voicework™ – The LoVetri Method.
Then after a series of coincidences, one of my students was looking to travel to the United States or Europe to study CCM Voice. Of course, I immediately recommended Jeanie; the student had received the same recommendation from another voice teachers in São Paolo who was at the same workshop when Jeanie first came to Brazil, it really left a huge impact.
Upon my students return, he told me about The LoVetri Institute for Somatic Voicework and I went in 2012. Following my completion of the Three Levels of Somatic Voicework™, I have had the pleasure of studying privately in NYC with Jeanie and I have continued my studies with Jeanie via Skype.
How has Jeanie's work influenced you as a teacher?
Just before I met Jeanie, there was a boom in Musical Theatre in Brazil. There have always been singers using chest dominant singing styles in Brazil; however, this marked the first time that there were many teachers who started trying to teach CCM Styles with a huge emphasis on belting.
I began looking into these teachers, and I took private lessons with some of the most renowned teachers in the area but I would many of the lessons feeling vocally tired. The teachers were just forcing chest voice up, and I often felt exhausted.
Working with Jeanie was the first time I was able to manage singing in the style differently. Jeanie told me in our first lesson about herself, "I'm not a belter but I can belt," and I identified with that. Of course I am not a belter, and I don't think belting is something that should be an objective or a target but her work was helping me sing how I've always wanted to. In this lesson, it was the first time I was able to sing high notes comfortably in a chest dominant voice.
The first time I accessed mixed voice with Jeanie, I asked her, "am I singing in chest or head? It feels like head but it sounds like chest." This was very interesting.
In addition, I have been studying the science of the singing voice for a long time but it wasn't until singing with Jeanie that I could feel everything working in an integrated way. It was the first time I could feel everything making sense together, a bridge between vocal function and emotions; when everything works together, this helps you to be expressive with your singing, it allows you to find the art.
Tell me about your classical training.
I had many excellent teachers in classical music that helped take my voice to the next level. My teachers were excellent, I discovered things in my voice that were truly magical and while I was grateful for the training, I could not use the training in Popular styles. I was using a completely different part of my voice and I couldn't manage the requirements for navigating CCM Singing Styles.
How has Jeanie's work influenced you as a teacher?
I identified with the way Jeanie related to the singers, many of the things Jeanie had been talking about I was already starting to figure out on my own but it would've taken me another twenty-years, maybe a lifetime to establish and nail everything down.
Somatic Voicework™ – The LoVetri Method made me laugh, I felt assured and safe as a teacher. I learned to laugh with my students and this was freedom; when you are trying to do something that you are not skilled at, it is normal to make mistakes, as a teacher knowing what was happening physiologically that caused the mistake, Somatic Voicework™ helped give me a framework to address the problem. I learnt the mistake is precious because it tells me everything I need to know to address the problem.
Tell us about starting your own teaching business.  What were your goals, challenges and successes?
When I first started out as a teacher, my main goal was to be a professional singer, not to be a teacher. I didn't have a decision or a want to be a professional teacher, I didn't make that decision, and it just happened, life happened.
From the onset, I wanted to be the teacher that I needed when I was a beginner. I wanted to offer students what they needed, to meet their goals.
I asked students what they wanted, even the most absolute beginners, many times even the absolute beginners knew what it was they wanted to improve about their voice. I didn't want to be a teacher that told people what they needed; I wanted to be of service to students to help them reach their goals.
Another major challenge I found with my own voice training was that my teachers were not concerned with preparing me for what happens in the real world of how to be successful in the music marketplace, the teachers treated that as something the student needed to figure out. I do not think the two can be separated, it is our job as teachers to help our students navigate the music business.
I encourage all my students to get out there and perform, to organize their own performance opportunities; if you are a singer who does not sing in the world, it will be hard for you to improve, there are things you learn in performance that you can never learn in a classroom.
How has Jeanie's work inspired you?
Jeanie is very respectful with students; I've seen Jeanie work with people from all walks of life. Somatic Voicework™ – The LoVetri Method empowers people, Jeanie is not trying to prove how much she knows, she is just empowering people with information and meeting the students where they are.
Tell me what continues to draw you to Somatic Voicework™
Somatic Voicework™ – The LoVetri Method transformed me, it transformed my lessons. I had been teaching for at least 20 years before being introduced to Jeanie's work. Somatic Voicework™ – The LoVetri method respects us as teachers, it empowers us to use the information to work with students, informed by our own experiences. When I am working with a student, I consider the student to be the master, I view myself as the conduit for what the student needs.
I appreciate that Somatic Voicework™ actively encourages referring students out when they need to work with other voice professionals, be that an ENT, Laryngologist, SLP, or other Voice Teacher.
 About Suely Mesquita.
Singer, songwriter, and singing teacher, Suely Mesquita released the albums Microswing (2008) and Sexo Puro (Pure Sex, 2002), reviewed in English by Daniella Thompson (Brazzil) and Kees Schoof (Música Brasileira). With Eugenio Dale, released the site and album Dio & Baco (2015). In 2014 was interviewed in the prestigious TV show Zoombido, by Paulinho Moska. Her songs were recorded by some of her renowed partners, as Mário Sève, Moska, Fernanda Abreu, Pedro Luís e a Parede, Kátia B., George Israel, Celso Fonseca, Leoni, Luís Capucho and also by brazilian singers as Ney Matogrosso, Ceumar, Daúde, 14Bis and others. In 2011, the artist made shows and gave lectures as part of the summer programs at the universities UMass Dartmouth and Georgetown. The book Sexo Puro: A Life in Brazilian Song (2010), by Bob Gaulke, reviewed in English by Kees Schoof and by Daniella Thompson, presents Suely's songs to an English speaking public. Her songs were studied also in a course at UMass Dartmouth (2011).
As a teacher, Suely has given private lessons since 1984. She created, coordinated and taught in the creative laboratory DESCONTROLE NÃO É CAOS (2013 e 2014), in Rio de Janeiro. She also created and teaches, in many cities in Brazil, other courses about the popular singer training, like Microfone Relâmpago. As vocal producer, she signs albums of important Brazilian artists, such as Pedro Luís e a Parede, Farofa Carioca, Gabriel Moura, Rogê, George Israel etc. She is co-founder of GEV* – Grupo de Estudos da Voz do Rio de Janeiro (Rio de Janeiro Voice Study Group), created in 1991 to adapt the acknowledgment of classical voice training and the scientific approach of vocal physiology to the popular singer training and to study many authors and teachers renowned in Brazil and abroad. In 2000, she created the first big discussion list on singing in Brazil, preparacaovocal.
Please check out more from Suely Mesquita at:
Facebook (Teaching Page): https://www.facebook.com/cursos.de.canto.popular/
Facebook (Perfomance Page): https://www.facebook.com/suely.mesquita.cantora
Duo Projects Website (Dio & Baco): www.dioebaco.com.br
Suely's Book 'Sexo Puro: A Life In Brazilian Song': https://www.amazon.com/Sexo-Puro-Life-Brazilian-Song/dp/1891241257
Dio&Baco's Music Video: https://www.youtube.com/watch?v=05b5zVw4CB8
Dio&Baco Live Performance: https://www.youtube.com/watch?v=xa88KepGGO4
Videos About Suely's Group Courses:
https://www.youtube.com/watch?v=TT_9vThEY3M
https://www.youtube.com/watch?v=dRAAjj1C5j0