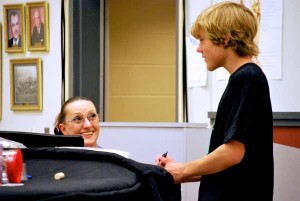 Somatic Voicework™ The LoVetri Method is an organized method of vocal training for Contemporary Commercial Music (CCM) styles, (those styles that used to be called "non-classical) based upon somatic (physical) awareness and aural discernment. The training is presented in three Levels that must be done in sequence.
Level I is called "Basic Application" and includes the following: Introduction to functional principles of voice science and medicine. There will be a vocal health lecture Jan Potter Reed, Speech Language Pathologist, specializing in care of the professional voice. Its main objective is to instruct teachers how to keep the voice healthy for speech and singing. Level I addresses terminology, and its appropriate use, and the attitude, intention and appropriateness of the interaction tween student and teacher. Level I states that the teacher must have a clear intention for the vocal exercise when it is given. The teacher must know (a) either what is missing and needs to be added or (b) what is wrong and needs to be corrected, such that the student's singing will somehow improve. It rests on vocal function, vocal health and on traditional pedagogy, but it is also meant to help singers be marketable. This level gives parameters for age-related groups of singers, and addresses lesson protocol and progress. There will be a presentation by Suzan Postel, dancer, singer, and Pilates Instructor, on body awareness, presenting exercises for greater connection to the physical aspects of singing.
Level II is called "Advanced Application." The main objective of Level II is understanding how to use vocal exercises functionally, and is largely devoted to exploring how singing exercises work….what they do and why. It further examines aural perception as applied to singers of various ability levels and style choices, and how training must integrate small details in each session into the larger goals of the vocalist over time. It enhances the teacher's ability to evaluate the students in terms of vocal behavior and aptitude. In Level II, the teacher acquires greater skill in choosing exercises that are appropriate and adjusting them to meet the student's need efficiently. There is also greater exploration of the many CCM styles and of various types of vocal issues that impact singing, separately from health. There will be a presentation on bodywork and how to cultivate greater awareness of physical sensations and movements by Peter Shor, massage therapist and musician, singer and composer. A master class will be given by Gospel and blues expert using her "Soul Ingredients®," Dr. Trineice Robinson-Martin. We also have a fun night singing for each other and another watching zany vocal videos.
Level III addresses "Repertoire, Problem Solving and Voice Medicine". It features a noted music theater expert from New York City, Thomas Murray, Music Director of Anastasia on Broadway, who will conduct a master class in audition skills with chosen participants. The medical expert will be laryngologist Dr. H. Steven Sims, of the University of Illinois, Chicago Institute for Voice Care.
Level III also touches upon performance skills for any style, and provides an excellent and quick approach to teach pitch matching for those with that issue. It promotes interdisciplinary interchange, i.e., the need for fellowship with Speech Language Pathologists and Medical Doctors. It also supports the idea that teachers should acquire the ability to read, understand and possibly even undertake research of interest to those in all voice disciplines. It goes into all aspects of Level II and III in greater depth.
The full three-tier program is informative, friendly and fun. There is a warm atmosphere and an openhearted approach to developing vocal artistry. It will be held at Baldwin Wallace University's Conservatory, in the Community Music School, in Berea, Ohio (near Cleveland). It begins on July 21, 2018 and ends July 29. Each Level is 3-days long. Registration is currently open. Over 1,800 people from all voice disciplines have attended at least one Level of Somatic Voicework™ and people from 43 states and 13 foreign countries have attended the courses in various locations throughout the USA, in Vancouver, Canada, in Toowoomba, Australia and in Sao Paulo, Brazil. Please go to: www.somaticvoicework.com or www.bw.edu/smp or call 440-826-2365 for more information.