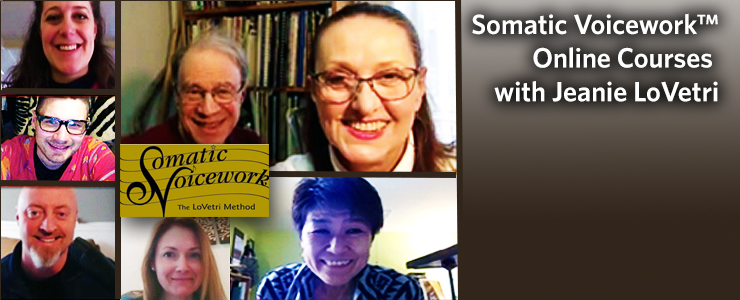 An Assortment of Functional Principles Applied: Hearing, Seeing and Dissecting What and How We Sing
Mistaking Cause For Effect: Seeking Resonance Instead of Vocal Function. An exploration of resonance and its place in functional training, not as functional training.
Digging Into Your Ears: What Do You Hear and How Do You Interpret It? Jeanie works with singers of multiple styles to explore functional training as it relates, separate of styles. 
Singing De-Constructed: What is Vocal Function and Why Does It Matter? Jeanie will work with three Somatic Voicework™ faculty members to demonstrate vocal function in both exercises and repertoire.
How Teachers of Singing Can Go Wrong: What We Don't Know Can Hurt Us and our Students Typical vocal issues that can develop from accepted vocal pedagogy approaches. Students new to Somatic Voicework™ who have previously worked mostly with another method will have a chance to explore Somatic Voicework™ with Jeanie.
Dates: Monday November 2nd, 9th, 16th, 23rd
Time: 6:00 PM to 8:00 PM EDT
Cost: Due to the COVID-19 outbreak, discounted rates are being offered:
For Somatic Voicework™ Graduates of at least Level I: $150
For those yet to complete any Somatic Voicework™ Certification: $200