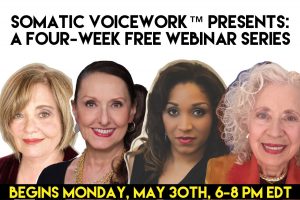 Dear Somatic Voicework™ Community,
We are extremely excited to announce a completely free webinar series running for four consecutive Mondays, starting May 30th from 6:00-8:00 PM EDT. 
If you cannot participate in real-time, register using the link below and you will receive access to the video archive from the webinar series. Participants will have one week to get caught up on any missed material. 
Please share this link with voice teachers, choral directors, fellow singers, your students, and anyone you know who may be interested in joining this free webinar!
Week I: An Introduction to Somatic Voicework™ 
Presented by Jeanie LoVetri
Monday, May 30th
6:00-8:00 PM EDT
Week II: An Introduction to Soul Ingredients®

Presented by Dr. Trineice Robinson-Martin
Monday, June 6th
6:00-8:00 PM EDT
Week III: Belting: The Pedagogy & Technique
Presented by Jeanie LoVetri
Monday, June 13th
6:00-8:00 PM EDT 
Week IV: Special Topics in Vocal Health
A Dialogue With Jeanie LoVetri, Dr. Anita Kozan (CCC-SLP), and Leah Ross-Kugler (CCC-SLP)
Monday, June 20th6:00-8:00 PM EDT 

Learn More About Somatic Voicework™ Here