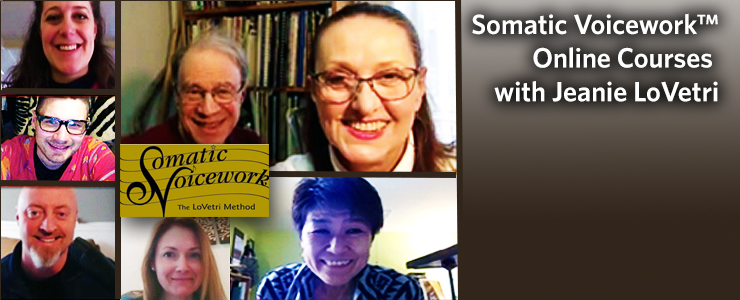 Week One: Working with Children & Teens
Week Two: Working with Amateur Adults
Week Three: Somatic Voicework™ in a Classical Context
Week Four: Working with Elite Belters
Dates: Monday February 4th, 11th, 18th, 25th
Time: 7:00 PM to 9:00 PM EST
Please note that the enrollment for this course is now full and registration for this course is closed.
Cost:
For Somatic Voicework™ Graduates of at least Level I: $200
For those yet to complete any Somatic Voicework™ Certification: $250
Each week will begin with Jeanie working with two singers while teachers observe (30 minutes with each student). Jeanie will then discuss the functional approaches and challenges in working with each group; this will be a mixture of traditional academic lecture from Jeanie and dialogue amongst participants. Each week will end with a question and answer period.
All courses are recorded and archived so participants can complete the course at their own leisure; participants are not required to complete the course in real time. Recordings will not be posted publicly and are used solely for the educational purposes of people involved in the online classes. Videos are posted within 24-48 hours of each week's class wrapping.
Special Notes about each week:
Week One: Working with Children & Teens
Jeanie will work with one student under the age of ten and one high school aged student.
Week Two: Working with Amateur Adults
Jeanie will work with two adult amateur students of different voice types.
Week Three: Somatic Voicework™ in a Classical Context
Jeanie will work with two elite classical singers looking to continue strengthening elements of their voice in a classical setting.
Week Four: Working with Elite Belters
Jeanie will work with two high level belters.