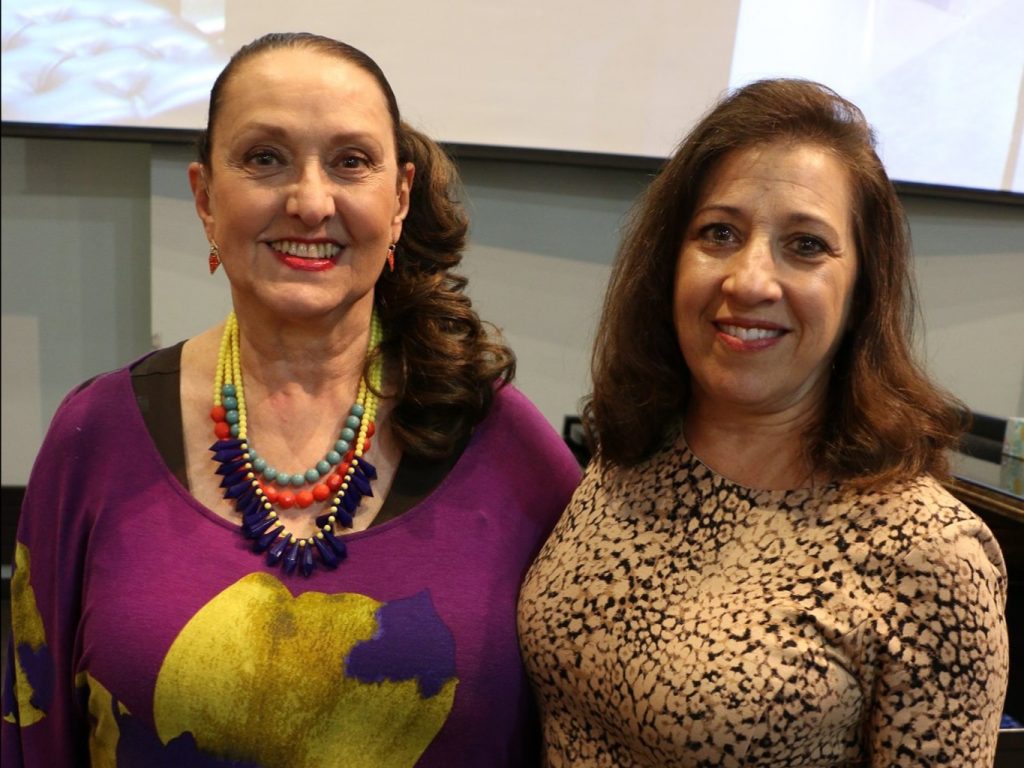 You currently run a very successful private voice studio in Frederick, Maryland. What advice do you have for teachers wanting to start a private studio?
(Photographed Below: Roseanne Fraley working with a student)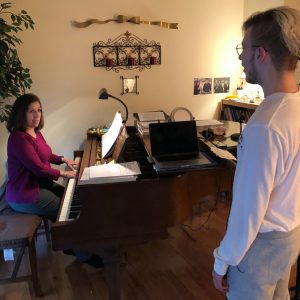 Begin by getting promo materials – most importantly a web site and business cards. To get students to seek you out as a teacher, there are several ways to go. What I did was teach a night or two at a local performing arts company. After teaching there awhile my schedule was full so I began taking other students two nights a week at my home, thus creating my private studio. Eventually, I had enough students to teach solely at my private studio. Another way to build your business is to contact the middle and high school vocal music and theatre teachers in your area. Send them a letter telling them who you are and what you have to offer. Include either some business cards or information papers that they can give to interested students. You could even offer to teach a vocal workshop to students at a school. That may also help you get private students. There are also online software tools such as Music Teacher's Helper that can help you with scheduling if you have many students. Create a studio policy that explains how your studio works (pay for the whole month at the beginning of the month, etc.) Lastly be sure to have a way to keep track of payment.
When did you first meet Jeanie LoVetri? How has Somatic Voicework™/Jeanie LoVetri changed your teaching and/or singing?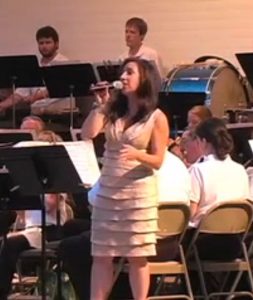 I met Jeanie LoVetri in July of 2012 at the CCM Vocal Pedagogy Institute where I took Levels I & II. My success as a voice teacher has improved dramatically in the last seven years as I have continued to take Jeanie's courses (multiple times) and Teacher Training sessions in New York and the Washington D.C. area. I am much better at listening functionally and having the intention of an exercise in mind as I work with students. I am able to get results with them in a shorter period of time. It's exciting for both myself and the student!
As a singer, working with Jeanie has brought my voice back to a healthy place. Teaching elementary school music for many years was leaving my voice with some weak spots, although I was managing fine when singing with my pianist and a couple of bands. Through Jeanie's guidance and many hours of practice, I not only have a healthy voice with much more efficient vocal fold response, I am able to belt in a couple of styles and have gotten that extra headiness out of the way! I am grateful to Jeanie and Somatic Voicework™ for changing the way I sing and teach for the better. It truly is life changing! [Read more…] about Meet Roseanne Fraley