THE LOVETRI INSTITUTE FOR SOMATIC VOICEWORK™
The LoVetri Institute in partnership with Baldwin Wallace University Conservatory of Music
Somatic Voicework™ Levels I – III
July 9 – 11, 2022: Level I
July 12 – 14, 2022: Level II
July 15 – 17, 2022: Level III
Post-Level Courses
July 9 – 11, 2022: Singing & Speaking for the Transgender or Gender Non-Binary Client
July 15 – 17, 2022: When Science Meets Soul: Level I – Introduction to Soul Ingredients® Methodology
July 15 – 16, 2022: Vocal Health Intensive
July 22 – 24, 2022: When Science Meets Soul: Level II – Developing the Artist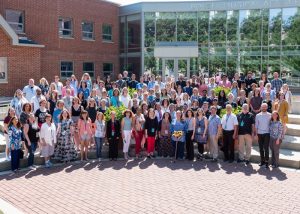 Registration Deadline: July 3, 2022U.S. participants: register by June 20, 2022 to receive your books prior to the course.
International participants: register as soon as possible; we will begin sending books mid-April. Due to international mail constraints, we will send books early.
A physical copy of each Level's Somatic Voicework™ course book will automatically be added to your registration for $25.00. Course books are required for all new participants and those who have a previous version of the book (printed prior to 2018).
An electronic, non-downloadable, version of the course book will also be available to all participants on Google Classroom during the course.
Online Tuition: $350.00 per Course, plus $25.00 required course book for Levels I – III
Online Re-certification: Participants who have completed any Course and plan to retake it are eligible for a discounted rate of $200.00 per Level. To obtain the discount code, email cas@bw.edu and indicate where and when you were previously certified.
Limited automatic payment plans are available.

Registration Deadline: July 3, 2022.
To receive a hard copy of the Levels I – III Somatic Voicework course book(s) prior to the course, register by June 20, 2022.